Editor's Note: The Best AI Chatbots article was originally written on May 19th, 2022 and was most recently updated for relevance and clarity on November 30th, 2023.
Chatbots are used by 1.4 billion people today. The interest in ChatGPT is fueling the flames of chatbot adoption to become even more mainstream for personal use and business alike. Companies are now rushing to launch their best AI chatbots to carry on 1:1 conversations with customers and employees. AI powered chatbots are also capable of automating various tasks, including sales and marketing, customer service, and administrative and operational tasks.
As the demand for chatbot software skyrockets, the marketplace of companies that provide chatbot technology is harder to navigate with increasing numbers of companies promising to do the same thing. However, not all AI chatbots are the same. To help companies of all sizes find the best of the best, we've rounded up the best 16 AI chatbots for specific business use cases, with a focus on AI-powered customer service. We'll also cover the 5 best chatbot examples in the real world, but more on that later.
In this post, we'll dive into everything you need to know about AI chatbot solutions, including:
Before we jump into the 16 best AI chatbots, it's important to differentiate between AI chatbots and rules-based bots. The first-generation bots that many companies adopted were very rigid and provided poor user experiences. Rules-based chatbots are limited to very basic scenarios, and do not provide automated customer service in the way that following generations of chatbots can.
What is an AI chatbot?
AI-powered chatbots provide a more human-like experience, are capable of carrying on natural conversation, and continuously improve over time. While basic chatbot technology moves the conversation forward via bot-prompted keywords or UX features like Facebook Messenger's suggested responses, AI-powered chatbots use natural language processing and leverage semantics to understand the context of what a person is saying.
The most powerful AI chatbots have the most sophisticated artificial intelligence software built. So what does a powerful customer service chatbot look like? Here's an example of what a powerful AI chatbot might look like if you could see it.
Though you won't see a purple glowing orb literally tracking and shooting down tickets, smart backend software can solve hundreds of tickets or tasks per second. On the other hand, agents who work with low-quality AI chatbots (or none at all) might be stuck doing manual work like this: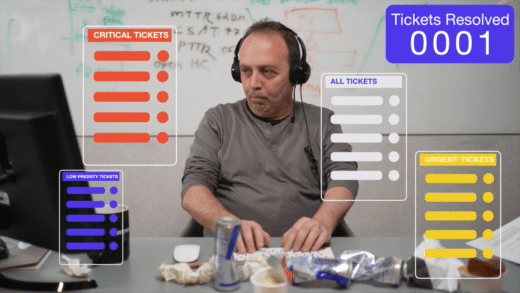 Without further ado, let's take a look at the best AI chatbots for 2024 and beyond.
Best AI Chatbots for 2024
| | |
| --- | --- |
| Rank | AI Chatbot |
| 1. | Netomi |
| 2. | ChatGPT |
| 3. | WP-Chatbot |
| 4. | Microsoft Bot Framework |
| 5. | Zendesk Answer Bot |
| 7. | Alexa for Business |
| 8. | Drift |
| 9. | Salesforce Einstein |
| 10. | Uniphore |
| 11. | SurveySparrow |
| 12. | LivePerson |
| 13. | ManyChat |
| 14. | Kore AI |
| 15. | Intercom |
| 16. | Replika |
Best AI Chatbot for Customer Service: Netomi

What makes Netomi one of the best AI chatbots of 2024?

Netomi's AI platform helps companies automatically resolve customer service tickets on email, chat, messaging and voice. It has the highest accuracy of any customer service chatbot due to its advanced Natural Language Understanding (NLU) engine. It can automatically resolve over 70% of customer queries without human intervention and focuses holistically on AI customer experience. Netomi is incredibly easy to adopt with out-of-the-box integrations with all of the leading agent desk platforms. The company works with companies providing diverse products and services across a variety of industries, including WestJet, Brex, Zinus, Singtel, Circles Life, Warner Bros. Games, and HP.

Key features
Generative AI technology with administrative control (also known as Sanctioned AI™)
Conversation OS: Intent Narrowing, Suggestions, Dynamic Welcome Menus
Reinforcement learning and ongoing optimization
Sentiment analysis for contextual next best action
Autogenerated Q&As from existing knowledge sources (e.g., knowledge base, PDFs, etc.)
Back-end systems integrations (CRM, OMS, etc.) for meaningful and personalized resolutions
Human escalation via agent desk integration (Zendesk, Salesforce, Freshworks, Khoros, Zoho, Sprinklr, Shopify)
Omni-channel experience (email, chat, voice, social)
Intuitive analytics and real-time reporting
Natural Language Understanding for human-like conversations
Multi-lingual experiences with 100+ languages supported
Dedicated customer success team
What makes Netomi stand out?
Goal-driven conversational AI built for CX
The World's only Conversation OS
Generative AI and sanctioned responses
Proactive intelligence and predictive emotional sentiment
What makes ChatGPT one of the best AI chatbots of 2024?
ChatGPT might be the most well-known AI on this list, but it actually isn't a chatbot at all.
ChatGPT is more accurately described as a natural language processing (NLP) model. It is trained on a large set of text data to generate human-like responses to text input. Because it is based on the powerful GPT-4 language model, ChatGPT is able to generate highly coherent and plausible responses to a wide range of topics. This makes it a useful tool for various natural language processing tasks, such as language translation, text summarization, and conversation generation.
OpenAI's goal is to make AI systems simple to use and more natural to interact with. It is for that reason that ChatGPT gets the honor of the most entertaining chatbot despite its potential for more practical applications.
Fun fact: OpenAI's co-founder invested in Netomi (the #1 chatbot on this list) because of its superior efficacy in enhancing customer experience for enterprises and medium-sized businesses.
Key features
Engage in conversation with users in a natural and human-like manner
Easily integrates with a variety of applications and platforms
Handles a wide range of conversational topics and scenarios
Learn and adapt to new situations and contexts
Potential challenges
ChatGPT has a low level of predictability with regard to how it answers questions
Lacks the ability to reason procedurally
Low business utility due to lack of integrations
Only works on knowledge sources and doesn't integrate with your business process or systems
What makes WP-Chatbot one of the best AI chatbots of 2024?
WP-Chatbot is the most popular chatbot in the WordPress ecosystem, giving tens of thousands of websites live chat and Web chat capabilities. WP-Chatbot integrates with a Facebook Business page and powers live and automated interactions on a WordPress site via a native Messenger chat widget. There's an easy one-click installation process. It is one of the fastest ways to add live chat to a WordPress site. Users have a single inbox for all messages – whether taking place on Messenger or on webchat – which provides a really efficient way to manage cross-platform customer interactions.
Key features
One-click-install for WordPress
Customization
Custom greeting
Facebook page branding
Single inbox for all incoming messages
Integration with your Facebook Business Page
Compatible with all versions of WordPress
What makes Microsoft Bot Framework one of the best AI chatbots of 2024?
The Microsoft Bot Framework is a comprehensive framework for building conversational AI experiences. The Bot Framework Composer is an open-source, visual authoring canvas for developers and multi-disciplinary teams to design and build conversational experiences with Language Understanding, QnA Maker and bot replies. The Microsoft Bot Framework allows users to use a comprehensive open-source SDK and tools to easily connect a bot to popular channels and devices.
Key features
AI and natural language
Open source SDK and tools to build, test, and connect bots to popular channels and devices
integrate with existing IT ecosystem
Omnichannel experience (website or apps, Microsoft Teams, Skype, Slack, Cortana, and Facebook Messenger)
Speech capabilities
What makes Zendesk Answer Bot one of the best AI chatbots of 2024?
Zendesk Answer Bot works alongside your support team within Zendesk to answer incoming customer questions right away. The Answer Bot pulls relevant articles from your Zendesk Knowledge Base to provide customers with the information they need without delay. You can deploy additional technology on top of your Zendesk chatbot or you can let the Zendesk Answer Bot fly solo on your website chat, within mobile apps, or for internal teams on Slack.
Key features
Multilingual
Omnichannel (email, Web forms, chat, in-app)
Integrates with Zendesk Guide knowledge base
Integrates within Zendesk agent desk platform for seamless human hand-off
Deep learning
Potential challenges
No proactive messaging available
No support for conversational elements such as callout bubbles, embedded forms, and calendar integrations
Can only surface articles and links from your knowledge base to deflect
No support for the auto-generation of FAQs
Interested in learning more about Zendesk for customer service? Check out any of these helpful blog posts from our team:
---
Looking for an AI platform that works beautifully with Zendesk? Let us show you how it works.
---
What makes CSML one of the best AI chatbots of 2024?
CSML is the first open-source programming language and chatbot engine dedicated to developing powerful and interoperable chatbots. CSML helps developers build and deploy chatbots easily with its expressive syntax and its capacity to connect to any third party API. Used by thousands of chatbot developers, CSML Studio is the simplest way to get started with CSML, with everything included to start building chatbots directly inside your browser. A free playground is also available to let developers experiment with the language without signing up.
Key features
Super easy syntax and conversation-oriented components
Short and long-term memory slots
Integrates out of the box with over 100+ other apps (CRM, ticketing, databases, livechat, and more)
Chatbot activity analytics
Ready-to-use chatbot templates library
What makes Alexa for Business one of the best AI chatbots of 2024?
Do you want to interact with the 83.1 million people who own a smart speaker? Amazon, which has captured 70% of this market, has the best AI chatbot software for voice assistants. With Alexa for Business, IT teams can create custom skills that can answer customer questions. The creation of custom skills is a trend that has exploded: Amazon grew from 130 skills to over 100,000 skills with no signs of slowing down. Creating custom skills on Alexa allows your customers to ask questions, order or re-order products or services, or engage with other content spontaneously by simply speaking out loud. With Alexa for Business, teams can integrate with Salesforce, ServiceNow, or any other custom apps and services.
Key features
Self-service APIs to help you create, manage, test and publish custom skills
Request APIs receive intents and directives from Alexa in your application logic
Respond to customers using text-to-speech, images, and streamed audio and video
Transactions and closed-loop commerce
SDKs for Node.js, Python, and Java
What makes Drift one of the best AI chatbots of 2024?
Drift B2B chatbots are implemented on websites to qualify leads without forms. Drift chatbots ask qualification questions and create leads in your CRM (Salesforce, HubSpot and Marketo). Once a lead is qualified, the chatbot can automatically book meetings for sales teams by connecting to calendars to pull availability. Drift also allows companies to identify the highest-valued and intelligently send personalized welcome messages to VIPs. If other questions arise during the conversation, Drift can integrate with some of the best knowledge base tools like Zendesk, Help Scout, HelpDocs and others to surface relevant information.
Key features
A chat widget for mobile and desktop
Routing that directs leads and conversations to the correct person, group or team
SDKs for JavaScript Web, Android mobile, and iOS mobile and web
an API for building apps, customizing the chat widget or integrating with your platform
Out-of-the-box integrations, including: Slack, Office 365 Calendar, Salesforce and Market
What makes Salesforce Einstein one of the best chatbots of 2024?
Salesforce Einstein is an AI chatbot designed by one of the most successful companies ever to come out of Silicon Valley. Salesforce is first and foremost a CRM company, in fact, its stock symbol is CRM.
Much of Salesforce's success comes from the abundant software integrations that are either made by Salesforce themselves or by third-party companies. For example, Netomi has created a really powerful Salesforce chatbot, which integrates seamlessly into Salesforce's platform. To have Einstein Bot at your fingertips, you need to buy into the overall Salesforce system and then pay $50/month as an add-on to Salesforce Service Cloud (which we also recognized as one of the 11 best help desk software options of the year).
Key features
Conversational AI
Capable of triage and routing to human agents when necessary
Seamless integration with other Salesforce products
Requires Salesforce Service Cloud
Potential challenges
Manual work involved in terms of labeling incoming tickets for continuous learning for the AI
Not a lot of administrative control
What makes Uniphore one of the best chatbots of 2024?
Uniphore is a global leader in contact center automation. It has built the most comprehensive and powerful platform that combines conversational AI, computer vision, emotion and tonal analysis, workflow automation, workflow automation and RPA with a business-user-friendly UX in a single integrated platform to transform contact center operations across industries.
Key features
Multiple intent handling
Intelligent routing
Caller authentication
Visual IVR solution
Auto-generate call summaries and notes
Integration with major CCaas players
What makes SurveySparrow one of the best AI chatbots of 2024?
SurveySparrow is a software platform for conversational surveys and forms. The platform bundles customer satisfaction surveys (i.e., Net Promoter Score (NPS), Customer Satisfaction Score (CSAT) or Customer Effort Score (CES) and Employee Experience surveys (i.e., Recruitment & Pre-hire, Employee 360 Assessment, Employee Check-in and Employee Exit Interviews) tools. The conversational UI deploys surveys in a chat-like experience. This approach increases survey completion rates by 40%. SurveySparrow comes with a range of out-of-the-box question types and templates. Surveys are embedded on websites or other software tools through integrations with Zapier, Slack, Intercom and Mailchimp.
Key features
Feedback chatbots to deploy on websites
Customized conversational surveys
Subaccounts and multiple users
Multi-language surveys
Smart surveys using conditional logic branching
White label surveys
Visual workflows
Omni-channel (email, social media, web links, embedded options, scannable QR code and email)
Reports and analytics
What makes LivePerson one of the best chatbots of 2024?
LivePerson offers AI-powered conversations which connect brands to consumers through multiple messaging channels. LivePerson works with companies providing diverse products and services across a variety of industries, including The Home Depot, Burberry, and Virgin Media. According to LivePerson's website, its conversational AI software mostly addresses marketing and sales, followed by customer care to a lesser extent.
Key features
Integrates with most channels aside from email
Ability to pull time-based reports
Intuitive interface
Real-time analytics dashboard
Enterprise-focused pricing
Potential challenges
No built-in integration builder (they depend on an IPaaS solution to offer integrations)
No auto-generation of FAQs from existing knowledge sources
Voice bots are currently not available
What makes ManyChat one of the best AI chatbots of 2024?
ManyChat is a great option if you're looking for a quick way to launch a simple chatbot to sell products, book appointments, send order updates or share coupons on Facebook Messenger. It has industry-specific templates, or you can build your own with a drag-and-drop interface, which allows you to launch a bot within minutes without coding. You can easily connect to eCommerce tools, including Shopify, PayPal, Stripe, ActiveCampaign, Google Sheets, and 1,500+ additional apps through Zapier and Integromat.
Key features
Basic reporting and analytics
Drag-and-drop interface to build bot
Integrations with Shopify, Google Sheets, MailChimp, HubSpot, ConvertKit, and Zapier
No coding required
Easy set up in minutes
---
How are our customers building chatbots to rethink customer service?
Learn how Nespresso, Tommy Hilfiger, and Westjet have turned support into a difference maker.
---
What makes Kore AI one of the best AI chatbots of 2024?
Kore AI offers employees AI-powered self-service assistants to get support for things they need. Kore AI delivers personalized conversational support to improve overall experience and productivity. Kore AI helps free up HR and IT staff from routine queries so they can focus on important tasks. It offers the following products to make it easier for your employees to get personalized support 24/7:
HR Assist: Pre-trained, AI-First Virtual Assistant for HR use cases
IT Assist: Pre-trained, AI-First Virtual Assistant for Conversational IT use cases
Work Assist: AI-first collaborative workspace for employees
Key features
Always on support on chat
Integrations with major IT and HR management systems
100+ languages supported
Omnichannel support
No-code flow builder
Analytics & dashboards
Potential challenges
Interface can be difficult to understand and work on
Help Documentation needs improvement
Users find it hard to navigate the platform without help
It takes a while to turn ROI positive
What makes Intercom one of the best chatbots of 2024?
Intercom exploded onto the market in 2011, making it one of the first chatbots on the market. Intercom is traditionally known as an easy to use rules-based bot for business (with minimal AI). However, it has only been until recently that Intercom has released an AI chatbot. With that said, there are some strong cases to pick Intercom as a top performing software in the space including an extensive list of software integrations.
Key features
Intercom's Business Messenger offers engaging customer support
Powerful integration set with over 250 out-of-the-box apps
Uses both business and customer data to personalize experiences
Seamless experience between desktop and mobile
Machine learning models can help answer up to 33% of inquiries automatically
No free tier with expensive higher tiers compared to other options
What makes Replika one of the best AI chatbots of 2024?
While this is not a business use case, it still warrants placement on this list for its coolness. Replika is an AI chatbot designed to become a "friend" who offers "no judgment, drama, or social anxiety." It claims that users can "form an actual emotional connection, share a laugh or get real with an AI that's so good it almost seems human." Users can choose their 3D avatar and customize it, help it learn about the world, and develop its personality. You can decide if you want it to be a friend, virtual significant other or mentor.
Key features
Learns to imitate users
Messaging and voice recognition
iOS and Android apps
Customizable avatar
AI Chatbot Frequently Asked Questions
How Do AI Chatbots Work?
AI chatbots use Natural Language Processing (NLP) engines and machine learning to interpret user inputs. This involves extracting user entities and determining user intents. These NLP methods are used widely in the technology industry, including for machine translation, sentiment analysis, and user behavior analytics (UBA) in cybersecurity.
What is a Chatbot Platform?
A chatbot platform allows businesses to host multiple AI chatbots all in one place. Chatbot platforms are crucial when companies want to deploy chatbots across multiple communication channels like messenger, SMS, email, and directly on the website. Having all your chatbots organized in one place ensures maximum efficiency and learning opportunities as the AI inevitably gets more sophisticated.
Is Siri a Chatbot?
Siri is considered a basic chatbot. Even though Siri sounds smart at times, Sirilacks the natural language processing and human-like conversational ability of more advanced AI chatbots.
How Can Chatbots Help Save Me Money?
Chatbots can help save you money by automating routine tasks that humans would otherwise complete. Imagine that you owned a business where five different types of questions made up for over 50% of the total questions by volume. Without a chatbot, a customer service agent would have to answer each question one by one. On the other hand, a chatbot could answer an unlimited amount of the same customer service question type in an instant. This allows businesses to save their support agents' time while maintaining a quality customer experience.
What Makes an AI Chatbot Powerful?
What separates a bad chatbot from the best chatbots is a bot's ability to leverage four different categories of artificial intelligence. The best AI chatbots are extremely sophisticated in these 4 AI attributes:
Intent recognition—intent recognition involves a semantic understanding of text-based and AI chatbots that leverage general syntactic and semantic knowledge which they learn from a large corpus of language data and business-specific training samples. Knowledge learned by AI chatbots from large data sources helps for the expansion and transfer of vocabulary which helps to improve interpretations with fewer business-specific training samples.
Extraction of entities—information that relates to a specific object or concept. For example, dates, places, times, descriptions, names, items, or numbers. These bits of data are the building blocks from which inputs are interpreted and defined.
Dialogue management—Based on intent and entities, AI Chatbots use the next best action to trigger various actions required to capture appropriate details from users and business systems for meaningful resolution. AI chatbots learn user preferences in their long and short-term memory to take contextually relevant smart actions.
Expansion and transfer of vocabulary—algorithms can capture and refine vocabulary, including synonyms to improve interpretations. These refinements are tied to subsets of users to generate more natural responses and be passed to new bots.
The strongest chatbot platforms (listed earlier) allow for easy scalability and low manual effort. Now you know what makes the best AI chatbots so powerful.
The 5 Best AI Chatbot Examples in Real Life
As chatbots get smarter, the adoption rate by big brands and industry leaders grows exponentially. Now that we've taken a look at which companies make the best AI chatbot technology and how to define what makes one chatbot better than another, let's explore real-life examples of companies that put those chatbots to work. Below are five of the most successful chatbot implementations and their results:
1. Best AI Chatbot Overall: WestJet's Chatbot
Company Background
WestJet, the only 3-peat winner of TripAdvisor's Best Airline in Canada, has incorporated a chatbot to help serve its millions of monthly website visitors. With its chatbot "Juliet," users can book travel plans, ask questions and get resolutions to common customer service questions.
Chatbot Results
When WestJet's bot first got started, it could automatically resolve about 30% of all customer service tickets. In less than two years, that number has jumped to over 87%. Not only is this the highest rate of automated ticket resolution ever recorded – making WestJet's Juliet the most powerful chatbot in the world – it also speaks to the sophistication of how true artificial intelligence can learn and get better over time. As a result, the WestJet customer service agents are able to work side-by-side with the AI bot and handle over 5X the normal load of customer support.
Interested in learning more about WestJet's chatbot, Juliet, check out one of these resources below.
2. Best AI Chatbot for Telecom: Charter Spectrum's Chatbot
Company Background
Charter Spectrum, a top cable and phone service provider in the U.S. has incorporated a chatbot into its customer service operations. Before launching its bot, Charter's customer support agents were answering around 200k live chats per month, a large portion of these for common use cases including forgotten passwords or usernames.
Chatbot Results
After bringing the "Ask Spectrum" chatbot into its customer support team, Charter Spectrum was able to handle 83% of chat tickets without human intervention. This significantly lightened their customer service load and resulted in a 300% increase in ROI.
---
To download a copy of our Telecom Customer Service Benchmark report, visit here.
---
3. Best AI Chatbot for Ecommerce: Covergirl's Chatbot
Company Background
Covergirl, a popular makeup brand, has taken a different approach. They are leveraging chatbots to engage with teens by providing product information and disseminating coupons. The Covergirl bot was designed to help the brand address the role that social media influencers play in young customer's lives. Customers can interact with the bot to get product information and coupons for items.
Chatbot Results
As a result of their ecommerce chatbot, Covergirl has seen social media engagement increase by a factor of 14. They have also experienced 91% positive sentiment ratings and a 51% click-through on coupons.
---
To download a copy of our retail Customer Service Benchmark report, visit here.
---
4. Best AI Chatbot for Travel: Amtrak's Chatbot
Company Background
Amtrak, a nationwide rail provider in the United States, launched a travel chatbot to provide support to its 375k daily website visitors. With the Amtrak chatbot, users can book travel, ask common questions, and seek assistance modeled on the company's best customer service representatives.
Chatbot Results
Currently, Amtrak's bot is responding to around 5 million requests per year. This has led to a 25% increase in bookings and a 30% increase in revenue. Overall this has meant an 800% increase in ROI.
---
To learn how AI is completely transforming the travel experience, download this eBook.
---
5. Best AI Chatbot for Customer Experience: Johnson and Johnson's Chatbot
Company Background
Johnson and Johnson owns a pregnancy and childcare resource called The BabyCentre UK. The company introduced a bot on Facebook Messenger to provide information and content to new or expecting moms. The bot uses targeting and personalization to deliver relevant information and to answer popular queries from users.
Chatbot Results
As a result of the bot, BabyCentre saw an 84% engagement rate and a 53% click-through rate. This represented a 1,428% increase over email communications despite using the same personalization methods.
Conclusion
The Best AI Chatbots can unlock incredible efficiency, but you need to select the right AI partner. The breadth of AI chatbots available today is incredible, and the number of automated customer service use cases will only continue to rise. The best business-specific AI chatbots are focused on a core use case – whether it's customer service, surveys, administrative tasks or sales. With 53% of organizations expecting to use chatbots within 18 months, it's crucial that teams adopt the right technology that prioritizes the end-user experience, exceeds goals, is easy to adopt and works seamlessly with other business systems. Therefore, as an increasing number of companies claim to have sophisticated AI platforms, its crucial to remember that not all AI chatbots are created equal.
Find out what your ROI will be if you build an AI chatbot. Try our free chatbot ROI calculator today.
Want your AI chatbot solution to be considered for this list? Email info@netomi.com and tell us why!